Yes ladies it is that time of year again, time to start swimsuit shopping. Over the years you've seen the magazine articles that tell you which swimsuit will be most flattering for your body type right? So last week when I went and tried on swimsuits for you all in hopes I could be like those magazines and tell you THIS is the perfect suit if you have hips, this is the perfect suit if you are busty, etc, etc.  However, that isn't exactly what I discovered…
Do you all remember that Instagram mom that posted a photo of herself in a two piece with her "un-perfect" body?  Bravo to her right?  Well let me share a little about my personal body issues. I have never liked my belly even as a teen and college kid so I rarely wore two pieces.  Then something happened when I turned 40 and I got the F-it gene. For the last four years I have been wearing two pieces. Why? Because they are more comfortable, cooler (temp) and I just prefer them. Do you think my tummy went away? Nope, it didn't and guess what, it is worse now because I have…GASP…stretch marks and extra skin. But now I wish that was my only body issue. I yearn for the days when my tummy was the only thing I didn't like!!  As we age our skin loses elasticity, we have moles and sun spots and our body wants to store more fat… 

Friday morning I headed into Seafolly at Westfield UTC DREADING this little research project!! If you have been into the Seafolly store everything is seriously gorgeous and it makes you wish you were 20 and could rock all of their suits. But I knew that wasn't my reality. So anyway, the darling Kelly at Seafolly lead me around the store, answered all my questions, showed me the best sellers, the on-trend styles and even their newer active wear line (which is seriously darling).  Then I MADE myself take about 20 different pieces into a fitting room so that I could see how they fit my 44 year old mom bod.
Guess what? It wasn't as horrible as I thought. I was surprised by some of the ones that I ended up selecting as my favorites!! I am busty and hate my tummy, as I mentioned, so I need underwire and a bottom that hits in a place that doesn't give me a muffin top or accentuates my stretch marks! Honestly I liked almost every. single. swimsuit. I am not kidding. Even the ones I initially thought NO WAY.
You know why? Because of the amazing craftsmanship. Because Seafolly only does swimwear, they do it right! The fabrics, cuts and construction were perfect. Really!  I love when a company focuses on one product and does it exceptionally well. The moral of the story? If you are a mature woman like myself with a flaw or two. Buy a well made swimsuit! It really makes a big difference!  Oh and you can still alter/tailor swim wear…last year I had a client struggling to find suits that fit perfectly and flattered her body and I sent her to the tailor, voila. She had the perfect fitting suit!
If you live local and want to swimsuit shop I HIGHLY recommend Seafolly at Westfield UTC. You can always give me a buzz and I can come for moral support…xoxo.
Now I will show you some of the suits I tried on and give you comments and recommendations for each!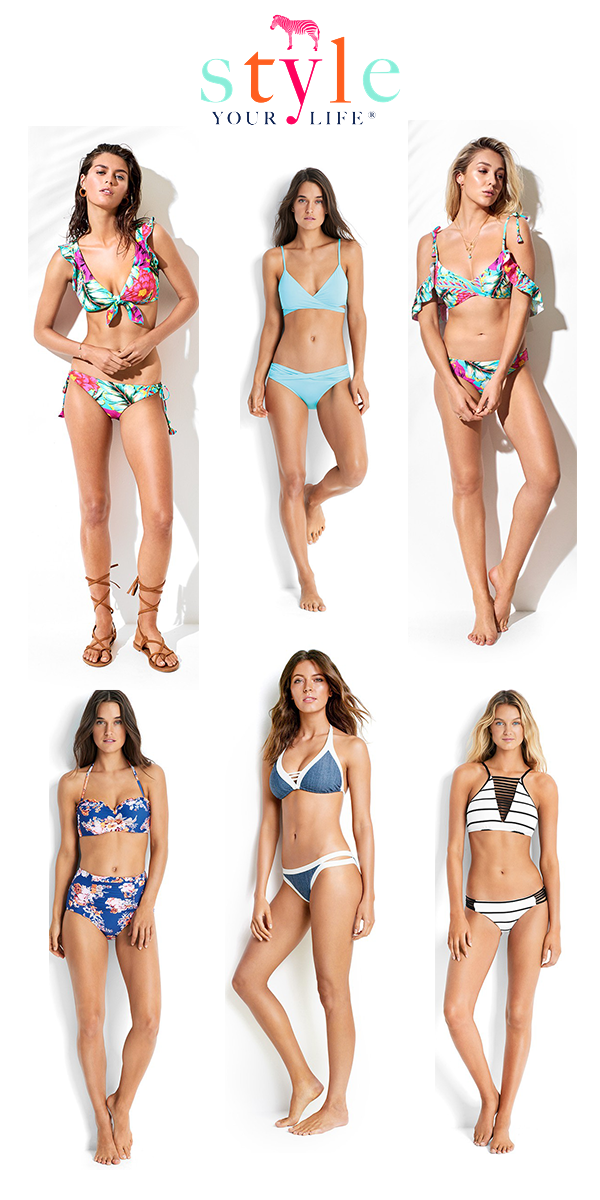 1. Ibiza Escape Brazilian Loop Tie Side Pant – These are the bottoms I purchased. The adjust-ability of the side ties allows me to make sure they don't dig into my tummy. The other thing I love about these bottoms is the Brazilian cut of the tush which makes my flat butt look more round 😉  I would NEVER have thought I'd like something with less coverage. 
2. Wrap Front Bralette Bikini Top –  This suit was one of my favorites. The top doesn't have underwire so I never thought it would work for me but you can adjust it as loose or tight as you want it in the back. The bottoms are a very flattering cut as well.  I see this suit working for a good variety of body types!  
3. Ibiza Escape D Cup Cold Shoulder Bralette Bikini Top – I purchased the top of this suit. I don't care for the ruffle so I am cutting it off, but this suit top has great support (under wire) and didn't give me extra cleavage. 
4. Vintage Flower High Waisted Bikini Pant – I have never been a fan of this high-waisted retro bottom…but it was MUCH more flattering than I expected. It covered up all of my tummy issues which of course I loved. I think this suit looks best on very thin gals, those of us that don't love our tummy and/or gals with smaller hips and thighs.
5. Block Party D Cup Tri Bra – This suit surprised me the most!  If you like the triangle string bikini look but want more support and coverage this is a GREAT suit. Again I need that under wire thing…
6.Castaway Strip High Neck Tank Bikini Top – I loved this suit. It was flattering on this busty gal because of the v-neck detail and the bottoms were also a great cut. The only issue was there is no underwire and I need that support. But to those of you that don't need underwire. I highly recommend!!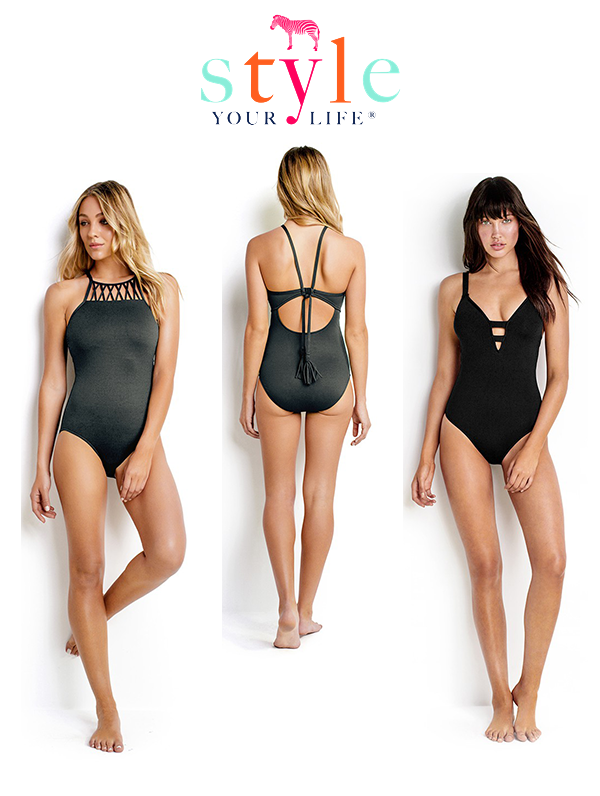 1. DD Cup High Neck One Piece Maillot – Has underwire, loved the neck detail and the tassel ties in the back, great for anyone!
2.Deep V One Piece One Piece Maillot -Very, very flattering one piece. I recommend this suit if you are busty or not so busty and/or have a tummy.