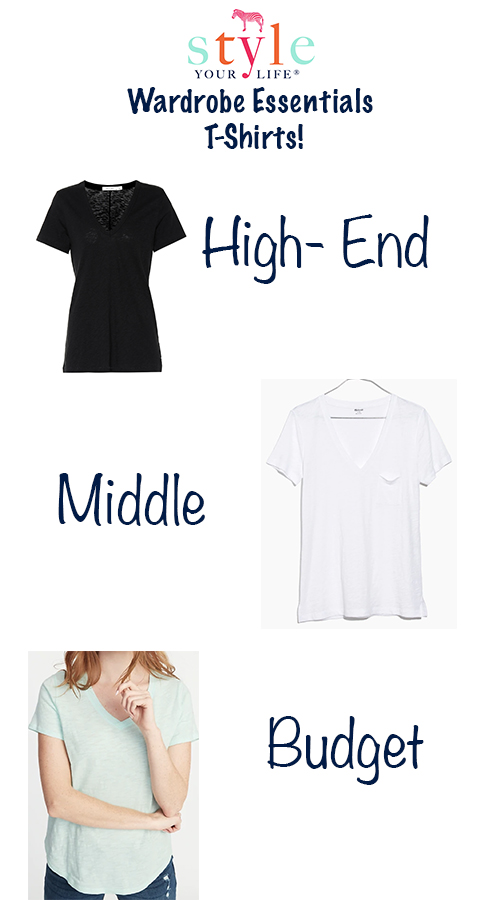 There is a lot of talk about the Wardrobe Basics or Wardrobe Essentials…  In my opinion, this is a very fluid thing as regions, lifestyle, trends, budgets, etc. are all so different.  If I have a client that lives in Manhattan and works on Wall Street. Their Wardrobe Essentials will likely vary a LOT from a client that is a professional surfer in Hawaii.  So I decided to try and come up with some items I consider to universally worn, flatter, and appealing. I am compiling a list and researching my choices so I can not only tell you what I consider essentials BUT where you can actually purchase these items. I will try and find three different price points for each category so no matter your budget you can invest in or purchase these basics!!
Today I am starting with T-shirts. I selected V-necks because they tend to be more universally flattering and I went on a shopping mission looking for the BEST t-shirts at three price points. I literally walked into MANY stores to try-on and feel these tees before I made Style Your Life approved!! So I assure you I am not recommending anything I would not wear myself.
Rag & Bone– This 100% cotton tee has a great drape, it is nice and soft and looks good on everyone. It is the most expensive but it is truly a beautiful top. They carry this T-shirt all the time so it's available season after season.
#1 Choice – Madewell– These are my go-to t-shirts for most clients. They wear very well, they are 100% cotton and at under $20 they are a great value. Madewell carries this T-shirt all the time so it's available season after season.
Old Navy Slub Knit – So I want to be clear that this is the slub tee. Not all Old Navy V-necks are SYL approved. But of all the discount stores I tried… This one is the current season winner.  I haven't found any discount retailer stay true to one tee season after season so this is probably a one season favorite.  This tee is 95% rayon 5% spandex